News Item
CDM Smith Marketing and Communications Team Earns Four Awards from SMPS Boston
June 8, 2018
BOSTON, Mass­a­chu­setts—CDM Smith was honored by the Society for Marketing Profes­sional Services (SMPS) Boston Chapter with four 2018 Marketing and Commu­ni­ca­tion awards. CDM Smith received two first place awards: one in the brand awareness campaign category for the firm's trans­porta­tion campaign, Modern Mobility; and another in the video category for 5th Graders Find Out What Happens After You Flush. CDM Smith was also recognized with a second place award in the Internal Commu­ni­ca­tions category for the Day 1 campaign, which introduced the firm's new CEO, Tim Wall, to employees. Finally, the CDM Smith team took home the top award of Best In-House Design for the first-place video, a distinction recognizing the very best in-house creative team.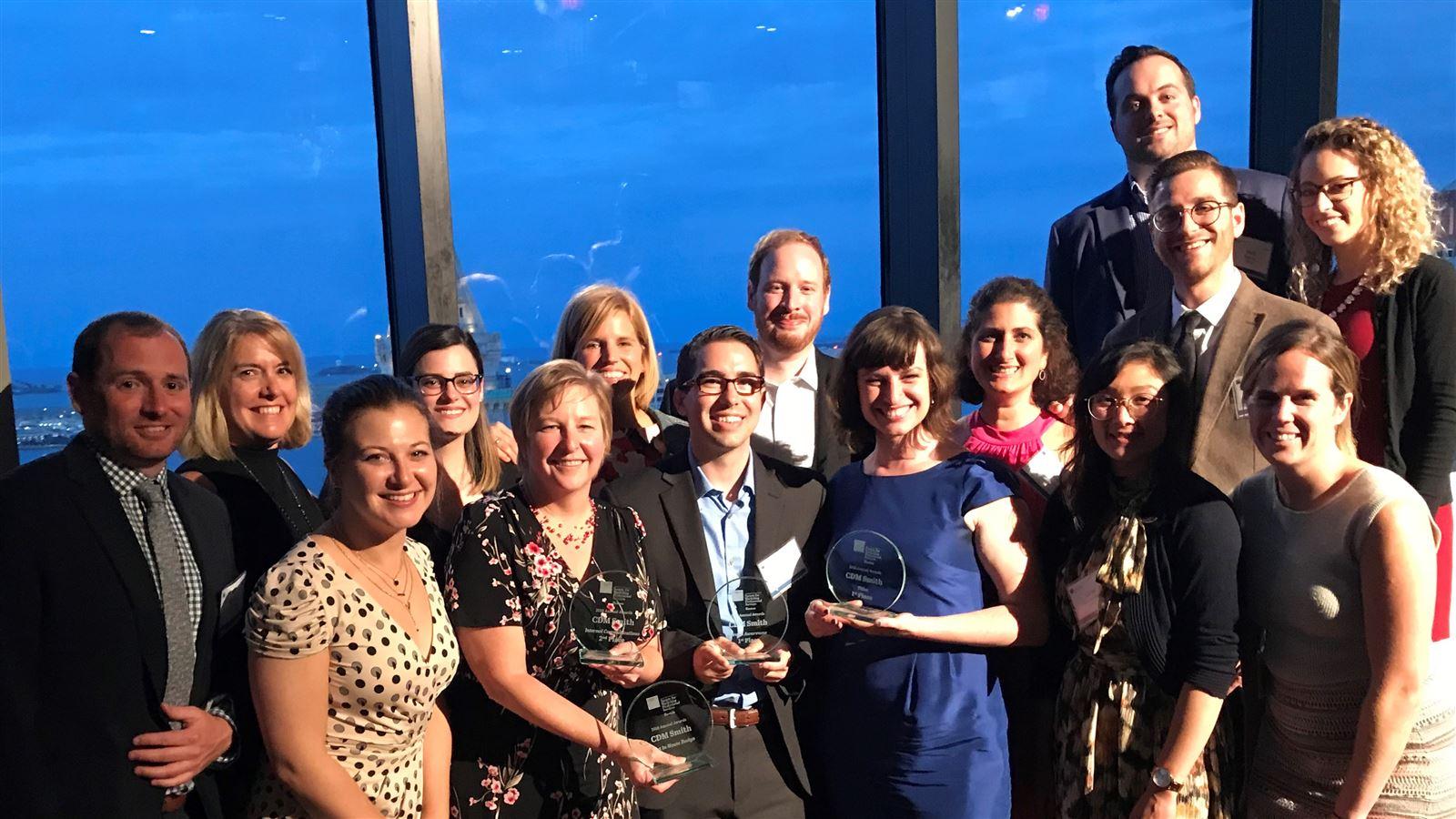 This is the second consecutive year CDM Smith has earned four awards at the SMPS Boston Chapter Awards ceremony. It is the fourth straight year that the firm has won the top honor in the brand awareness campaign category and the second year they have been honored with best in-house design.
"We reorganized our marketing and commu­ni­ca­tions group 4 years ago to develop bold and impactful content to support our firm's most strategic areas, internally and externally. It's fantastic to be recognized by our peers for these efforts," said Julia Forgas, the firm's Chief Marketing Officer and member of the CDM Smith Executive Leadership Team. She continued: "It's fantastic to see all facets of our marketing and commu­ni­ca­tions program recognized with these four awards." Laura Burton, the firm's creative services manager remarked, "The Best-In-House Design Award is really special. We have an extremely talented team that continues to find new, fun and creative ways to bring topics like 'flushing your toilet' to life in an engaging way. I could not be more proud!"
These awards represent CDM Smith's dedication to and investment in high quality and effective commu­ni­ca­tions to its clients and employees.
CDM Smith provides lasting and integrated solutions in water, environment, trans­porta­tion, energy and facilities to public and private clients worldwide. As a full-service engineering and construc­tion firm, we deliver exceptional client service, quality results and enduring value across the entire project life cycle.