News Item
CDM Smith Team Selected for MWRA's Metropolitan Tunnel Redundancy Program
September 1, 2020
BOSTON—The Massachusetts Water Resources Authority (MWRA) recently awarded the CDM Smith-led team a contract to support its $1.5 billion Metropolitan Tunnel Redundancy (MTR) Program. Under this $15.7 million, 3.5-year contract, the team will develop and evaluate tunnel route alternatives, deliver environmental impact reports, conduct geotechnical investigation and evaluation and prepare a preliminary design report.
More than 3 million people and 51 communities in the greater Boston area rely upon MWRA to provide reliable, high-quality drinking water. MWRA distributes water to many of those communities via the Metropolitan Tunnel System, portions of which have been in service for more than 70 years. The MTR Program is a historic investment in the reliability and security of the drinking water system. Construction of a redundant 4.5-mile Northern Tunnel and a 9.5-mile Southern Tunnel to support the system will enable the MWRA to perform long-needed maintenance on the City Tunnel, City Tunnel Extension and Dorchester Tunnel, and also serve as a go-to option during emergencies.
As the preliminary design engineer, CDM Smith brings unmatched knowledge of the water distribution system, its hydraulics and operations. We have been working with the MWRA since its inception in the mid-1980s and are honored to continue to serve the agency and our own communities surrounding our global headquarters in Boston, Massachusetts.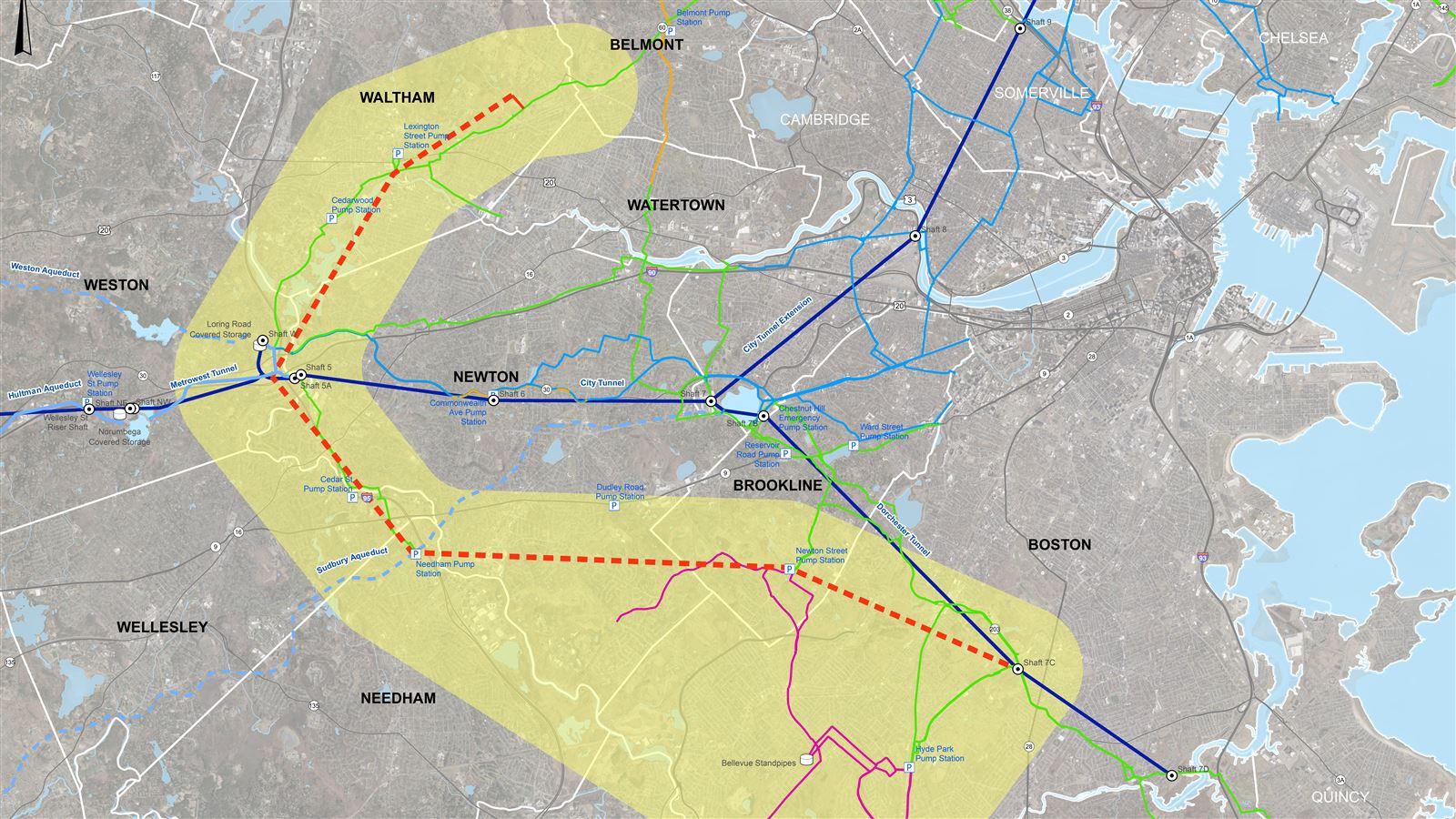 A map of MWRA's existing water system, tunnel concept and study area. 
"This is a legacy project for our Boston office that is a result of persistent strategic planning that began in 2013," says Tim Dupuis, senior vice president and sales leader.
Initial work includes public outreach, permitting and drilling to assess local geologic conditions. This contract is the beginning of a long-term, trans­for­ma­tional program to fully modernize the MWRA's system, reha­bil­i­tate its tunnels and ultimately, create a fully redundant water system for future generations.

CDM Smith is a privately owned engineering and construc­tion firm providing legendary client service and smart solutions in water, environment, trans­porta­tion, energy and facilities. Passionate about our work and invested in each other, we are inspired to think and driven to solve the world's envi­ron­men­tal and infra­struc­ture challenges.
Water Partnership
https://cdmsmith.com/en/Client-Solutions/Focus-Areas/Water
It's about much more than engineering. It's thoughtful experts, powerful insights and smart decisions. It's an alliance to help you manage resources and build a more resilient future.
Learn More