News Item
CDM Smith Marketing and Communications Team Wins Award of Excellence from SMPS
August 7, 2019
WASHINGTON, D.C.— CDM Smith was recognized by the Society for Marketing Professional Services (SMPS) with an Award of Excellence for its transportation marketing campaign: Modern Mobility. The award was presented on Thursday, August 1, in Washington, D.C., at Build Business, the SMPS national conference. It was the second straight year that CDM Smith won the top prize in the Brand Awareness-Mixed Media category; the company's Water Partnership campaign won in 2018.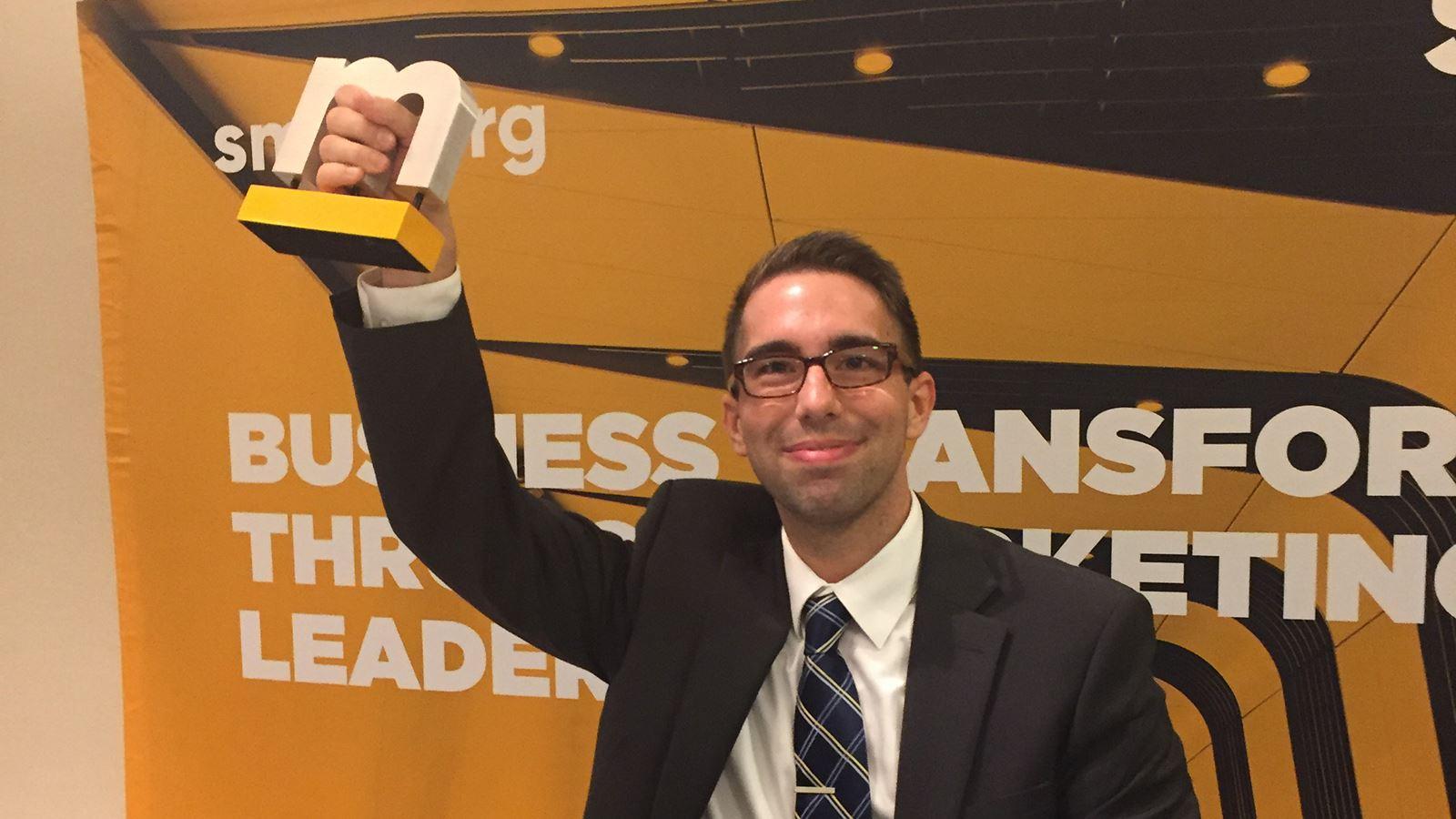 Senior commu­ni­ca­tions specialist Ken Horner accepts the "M" Award of Excellence for best brand awareness campaign at the 2019 SMPS gala, held in Washington, D.C.
"We're honored to be recognized by our peers for a second straight year in this category," says Julia Forgas, Chief Marketing Officer. "I'm exceedingly proud of our MarComm group and the Modern Mobility campaign team for demonstrating leadership in the industry. And a huge thanks to our technical and sales colleagues who partner with us every day to tell the stories that differentiate CDM Smith and allow us to do so in creative and compelling ways."
Through a multi-channel communications approach, the Modern Mobility campaign illustrated and shared the forward-thinking, multimodal solutions that CDM Smith's experts are delivering across the United States. Its significant results supported the firm's transportation business strategy while emphasizing CDM Smith's commitment to helping clients envision and deliver a stronger transportation future.
In June, CDM Smith's MarComm team was also honored by SMPS Boston with five 2019 Marketing and Communication awards, including three first-place awards in the video, brand awareness campaign and holiday categories. The team received additional honors for Best In-House Design, a distinction recognizing the very best in-house creative team, and Best in Show, an honor given to the entry with the highest overall scores across all categories.
The SMPS Marketing Communications Awards Program is the longest-standing, most prestigious awards competition that recognizes excellence in marketing communications produced by professional services firms in the design and building industry. The program provides an unparalleled opportunity for professionals to showcase their best marketing practices and to educate the industry about the critical role of marketing in successful firms.
CDM Smith provides lasting and integrated solutions in water, environment, transportation, energy and facilities to public and private clients worldwide. As a full-service engineering and construction firm, we deliver exceptional client service, quality results and enduring value across the entire project life cycle.
Modern Mobility
https://cdmsmith.com/en/Client-Solutions/Focus-Areas/Transportation
Our trans­porta­tion experts are dedicated to improving mobility now and into the future, providing innovative solutions to navigate our clients' toughest challenges and help them advance their infra­struc­ture for the long haul.
Learn More