News Item
Tolling Industry Leader Terri Slack Joins CDM Smith
July 18, 2018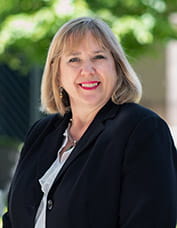 HARTFORD, Connecticut—CDM Smith is proud to announce that national tolling expert Terri Slack has joined its trans­porta­tion team as a vice president and senior project manager. Slack is located in the firm's Hartford, Connecticut office. She has more than two decades of public sector leadership and executive management experience, including a decade working directly for tolling agencies and more than eight years as national toll and finance program manager.
On her decision to join CDM Smith, Slack said, "I'm excited to join a firm with such a long­stand­ing reputation and welcoming company culture. I look forward to using my background in public finance to help deliver toll programs that will improve the highway systems many of us drive on every day."
With an extensive background in public finance and the delivery of large toll programs, Slack brings a unique perspective to trans­porta­tion financing. She has helped clients such as the Georgia State Road and Tollway Authority and the Washington State Department of Trans­porta­tion (WSDOT) secure funding for capacity improvement and infra­struc­ture projects, including helping WSDOT implement toll financing on Seattle, Washington's State Route 520 to increase roadway capacity.
Asked how Slack will bolster CDM Smith's team, trans­porta­tion director Jim Riley said, "Terri possesses the full set of skills and experience to compre­hen­sively serve our tolling clients, from strategic policy advising to back office operations and toll collection systems. She both complements and brings together CDM Smith's broad-based toll services and strengthens our place in the toll program management arena." Senior vice president and trans­porta­tion group manager Doug Lavoie said, "Terri's blend and depth of experience will greatly benefit our clients, especially as states continue to mitigate funding needs and seek ways to combat growing congestion. With a full spectrum of expertise and rela­tion­ships across the nation, her qual­i­fi­ca­tions strengthen our ability to help clients navigate complex toll issues and make these programs successful."
Slack is a previous board member of the Inter­na­tional Bridge Tunnel and Turnpike Association (IBTTA), has served as vice chairman of the association's audit committee and currently serves as a member of its finance committee.
CDM Smith provides lasting and integrated solutions in water, environment, trans­porta­tion, energy and facilities to public and private clients worldwide. As a full-service engineering and construc­tion firm, we deliver exceptional client service, quality results and enduring value across the entire project life cycle.
Modern Mobility
https://cdmsmith.com/en/Client-Solutions/Focus-Areas/Transportation
Our trans­porta­tion experts are dedicated to improving mobility now and into the future, providing innovative solutions to navigate our clients' toughest challenges and help them advance their infra­struc­ture for the long haul.
Learn More